Creative Thinking and Innovation                                
Overview:
Have you ever felt that you were missing something when thinking a problem through? This session will help you capitalize on your strengths and improve your decision making by creating new ideas yourself and being open to ideas from others by deferring any judgments. Creativity can become "a way of life."
This short session will heighten your ability to remove any mental blocks, spark your curiosity and harness your natural talents while maintaining a positive mindset.
During this session, you will discover your personal strengths and learn how to optimize them to achieve maximum benefits.
Who Should Attend?
Those wanting to tap into their creative sides of the brain and be able to use this inherent resource for expansive thinking and ultimately more enlightened problem solving.
Prerequisite:
None
Objectives:
By the end of the session, you will become familiar with the different styles of thinking and have a chance to expand your thinking through exercises.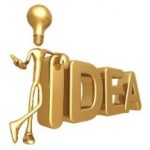 Topics:
Understand the difference between critical thinking and creative thinking
Recognize the core behaviors for creativity
Tap into your personal creativity
Practice creative thinking through exercises
Half-day course
Tuition: $ 149 (special group rates available)